Advance bookine is required to access the visit of your choice and must be made the day before your arrival at the latest ! >> See how to book >>
In the basque country
The Caves of Sare are in Sare, basque village, listed among the most beautiful villages of France.
You will find us to 10km of the "Petit train de La Rhune" and 30min of basque coast.
Discover our site
The Lezea cave, the museum and the Megalithic Park.
Prepare your visit
Consult our Schedules & Prices and book online !
A visit for everyone !
A visit for families, couples, friends or solo!
Partly accessible to people with reduced mobility and adapted for the hearing-impaired.
> Learn more
Guided tour in French, Basque, Spanish or English.
Reserve online
News
To be informed of the latest news, follow us on social networks!
HEALTH PASS
Published on 02-08-2021 :
Currently, the health pass is not required to visit the caves of Sare (Subject to new government directives).
The museum and the bar area are limited to 50 people.
---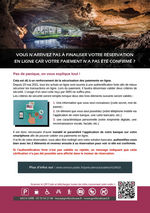 ONLINE PAYMENT PROBLEM
Published on 09-07-2021 :
Some visitors told us that they were having difficulty finalizing their reservations online. This is due to a strengthening of the security of online payments.
Since May 15, all online purchases are subject to double authentication in order to better secure your online transactions, whereas until now an SMS received on his mobile was sufficient to validate a payment.
The problem is that as long as the system has not become established, the 2nd authentication requested is not obvious to everyone and our devices are not always configured to respond to it.
We explain all this to you on the attached sheet !
---
On-site services
On-site parking
Bar with panoramic view
Picnic area
Hiking departures